News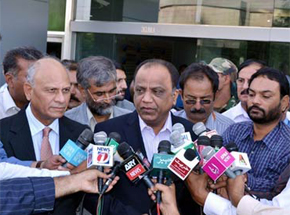 KARACHI: Minister for Ports and Shipping Senator Babar Khan Ghauri said here on Saturday that the World Bank funding of Rs9 billion for reconstruction of six berths at the Karachi Port is a strong indicator that vibrant institutions, such as KPT, are not on the negative list of world financial institutions.
He said most of the institutions, run by the Ministry of Ports and Shipping, including Pakistan Shipping Corporation (PNSC), KPT and Port Qasim, are making huge profits and are actively contributing to economic growth.
Speaking at the ground-breaking ceremony for the project of reconstruction of berths 15 to 17A, including ship repair berths, 1 and 2, where the prime minister was the chief guest, the minister said that these institutions have made huge profit of Rs18 billion in the last financial year.
He further said that if people work hard, all growth targets could be achieved.
Such achievements, the minister said, are a ray of hope for the nation, particularly when huge national institutions, like Pakistan International Airlines, Pakistan Steel and Railways, etc., are not only incurring huge losses but are also on the verge of collapse.
He disclosed that the Ministry of Ports and Shipping had constructed a civic centre at Gwadar port and hoped that Prime Minister Yousuf Raza Gilani would inaugurate it next month.
The ceremony was attended by the Governor Dr Ishratul Ibad, chief minister Syed Qaim Ali Shah, Speaker Nisar Khoro, provincial ministers Ayaz Soomro, Pir Mazharul Haq, Senator Haseem Khan, ANP city chief Shahi Syed, MNAs and MPAs and former DG Ports and Shipping Capt Anwar Shah.
The secretary of ports and shipping, Agha Syed Raza Qazilbash, said that 922-meter long berths having 16-meter depth would provide berthing to post Panamax container vessels having 70,000dwt weight, 280 meters length and 13.8 meters draft.
Similarly, he said bulk carriers having 100,000dwt weight, 255 meters length and 15.3 meters draft would also be berthed.
KPT chairman Mohammad Aslam Hayat said that the KPT attracted $1 billion direct foreign investment (DFI) during the last four years. Such mega projects, including deep water container port, attracted DFI to the tune of $457 million and $105 million for Karachi International Container Terminal.
The KPT also received $75 million in respect of Pakistan International Container Terminal and Rs1 billion for development of KPT food street.
He further said that in order to improve operational capability of the port, KPT recently acquired two shipping tugs worth Euro 16.20 million, one dismountable dredger costing Euros 2.23 million and also added two pusher tugs, costing Rs369.09 million to its fleet.
Aslam Hayat said that the KPT is well aware of its social obligation towards city and recently purchased two passenger boats for commuters between Karachi and Manora at a cost of $2.345 million each.
Similarly, he said KPT plans to construct Karachi Harbour Crossing bridge, which will ease tariff congestion in the city by providing connectivity with Northern Bypass and Lyari Expressway via Manora and a cargo village is also being constructed at an estimated cost of $600 million for which financing has been sought from Asian Development Bank.
The KPT, he said, also plans to develop recreational facilities at Oyster Rock breakwater for citizens of Karachi.